Bio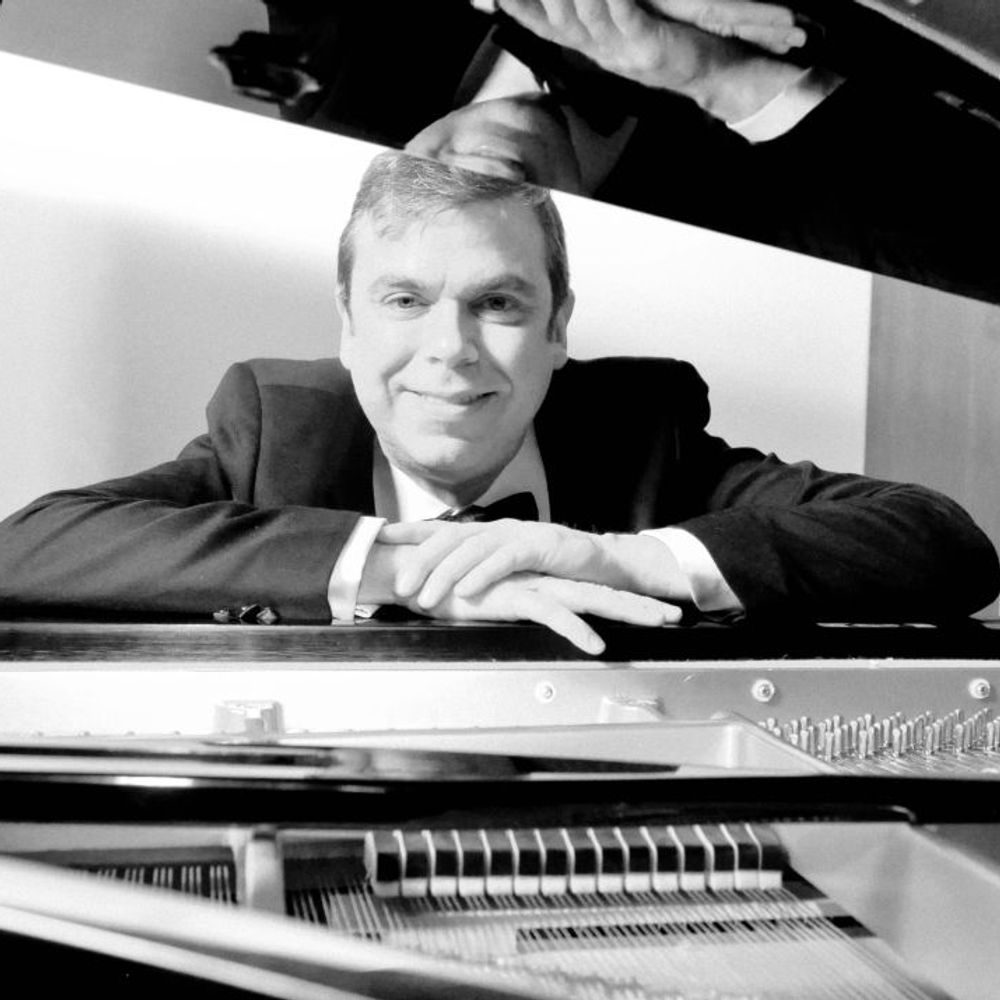 Bio (200 words)
James McGowan (PhD Eastman) is an Associate Professor of Music at Carleton University, where he teaches music theory and composition. He is a passionate educator and has won several teaching awards. He served as Carleton University Chair in Teaching Innovation (2020–23) for his work in developing experiences in the arts on campus and in the community. He is Managing Director of the Carleton Jazz Camp, an instructor at CAMMAC in piano and improvisation, an instructor with Discovery University (Ottawa Mission), and serves as the Board of Directors President of Lotus Centre for Special Music Education in Ottawa. He is a published author of articles on jazz theory and music theory pedagogy.

Embracing multiple styles of music, Dr. McGowan is a solo and collaborative pianist, at home in jazz, classical, and improvised musics. As a pianist, he performs regularly at Brookstreet Options Jazz Lounge, elsewhere in Ottawa and beyond. The 14-member James McGowan Ensemble released its jazz-classical fusion album Reaching In in 2023 featuring his compositions and poetry, supported in part by a grant from the Canada Council for the Arts. In recent years, he has released four other albums as leader or co-leader, including the critically acclaimed album 4K. [Photo by Kelly McDonald]
Extended Bio
James McGowan is a pianist, organist, conductor, composer, arranger, educator, and music theorist equally at home in many genres of music. With degrees in Music Theory from the Eastman School of Music/University of Rochester (PhD 2005) and University of North Texas (M.M. 1995), and degrees in Composition from the University of Toronto (M.Mus 1993, B.Mus 1992), Dr. McGowan is an Associate Professor of Music at Carleton University. He also holds an A.R.C.T. in Piano Performance (First Class Honours) from the Royal Conservatory of Music (Toronto). He further received specialized training with Certificates in Kinàmàgawin Indigenous Learning (Carleton) and Course Design Fundamentals (Carleton).

Dr. McGowan is a passionate educator and was honoured to serve as Carleton University Chair in Teaching Innovation in 2020–2023. In this capacity he received a grant to promote community music and arts education across the campus with his PLACE initiative and conducting research in the scholarship of teaching and learning. He has also been recognized with multiple university-wide awards for his teaching—FASS Teaching Development Award (2023), CU Teaching Achievement Award (2013), CU New Faculty Teaching Award (2012), two-time recipient of Carleton Residences Favourite Faculty Award, a Raving Raven for Teaching Excellence, a CUSA Teaching Excellence Award, and McMaster University Student Union Teaching Award for Humanities. At Carleton, Dr. McGowan serves as Managing Director of the Carleton Jazz Camp, and has taught middle-school and high-school students in the MCP (Mini-Enrichment Program). He has served as Supervisor of Performance Studies at Carleton University (2011–12, 2018–21, and 2024–), Supervisor of Ensembles, Masterclasses and Practica, and Undergraduate Supervisor.

James is an instructor at the CAMMAC Music Centre (Harrington, Québec) in their Musical Fusions summer camp program. In 2023, he taught with Discovery University, in a program affiliated with the Ottawa Mission. He has been a clinician and adjudicator for different arts organizations (Junos, Kiwanis, Lions, Canadian Music Showcase, City of Ottawa Arts Grants, etc.), and given workshops on topics including introductory improvisation, choral singing, jazz piano approaches, jazz music theory, and managing performance anxiety.

Finding the hybrid space between classical, jazz, and contemporary improvisation, James has given piano performances in Canada, the United States, and Sweden, and has collaborated with ensembles including the Sudbury Symphony Orchestra, James Madison University Jazz Ensemble, and individual musicians from Jesse Stewart to Ian Tamblyn to Dong-Won Kim to Jamaal Amir Akbari [JustJamaal ThePoet], and Heidi Melton to Barbara Hannigan. He has performed frequently in the Ottawa International Jazz Festival, as well as the Stewart Park Festival, Merrickville's Jazz Festival, and Skylight Festival. He currently performs with Modasaurus, James McGowan trio, Collected Strands Improvisation Quartet, Michael Curtis Hanna, Rachel Beausoleil, EvenSong Ensemble, and others; in recent years he has released five albums as leader or co-leader—Reaching In, 4K, Two Intents, Over the Mountain, and Songs from the Bridge—and others as a session pianist or arranger.

In 2022, James won a Canada Council for the Arts "Concept to Realization" grant to support his work performing and recording a program of original compositions for classical-jazz-fusion 14-piece ensemble. The album, entitled Reaching In received strong reviews including: "This is an excellent example of a composer thinking beyond one particular musical style and focusing on what needs to happen to convey the story that starts from within. The writing is first-class, as is the playing, and the storytelling so vivid and emotionally connected. It is not often I hear such an affecting work of art that is equally theatrical, classical, and jazz inspired." Simon Defty, Simply Jazz Talk (UK, 2023).

As an award-winning composer and arranger (including First Prize PROCAN Canada-wide Young Composers Competition; Glenn Gould Composition Scholarship, UofT; John Weinzweig Composition Scholarship, UofT; Canadian University Music Society Composition Competition), James has composed in most genres including choral cantatas, orchestral music, chamber music, songs (jazz, art songs, and singer-songwriter), and compositions for jazz ensembles, including music for his jazz-fusion quartet Modasaurus and the James McGowan Ensemble. He has had commissions by various groups including the Etobicoke School of the Arts choir and orchestra program, Alexander Singers and Players (Toronto), the Atlantic Voices Choir of Ottawa, and Carleton University Choir. His works have recently been performed (or accepted for performance) by the Ottawa Symphony Orchestra, Rocky Mountain Symphony, Coro Vivo, and other ensembles.

As a music theorist, Dr. McGowan has presented his research across Canada, the United States, and the United Kingdom. He has several published articles, primarily in the field of jazz theory as well as in choral music. He has developed and continues to expand specialized course packs in music theory and musicianship courses he has taught. He is currently the editor of the Jazz Theory Bibliography, an online database hosted at Carleton University. Selected publications include: "Mitigating European-Centric Bias in University Music Theory Curricula," "'Consonance' in Tonal Jazz: A Critical Survey of its Semantic History," "Psychoacoustic Foundations of Contextual Harmonic Stability in Jazz Piano Voicings," "Riemann's Functional Framework for Extended Jazz Harmony," "Applying the Metaphor of Motion to Phrase Analysis and Performance of Choral Music," in addition to his oft-cited 2005 dissertation "Dynamic Consonance in Selected Piano Performances of Tonal Jazz." Dr. McGowan is a Research Fellow and on the management team of the Research Centre for Music, Sound, and Society in Canada.

James stays active in community music leadership, in which he has directed several amateur church music programs, conducted school-age choirs, coached school-age instrumental music ensembles, taught musicianship for all levels of school-age programming, accompanied music theatre ensembles, led a musical group for those living with mental illness, performed in nursing homes and palliative-care facilities, developed and taught a course in Community Music at Carleton University, and mentored others to develop their skill sets in community music. He also serves as the volunteer President of the Board of Directors at Lotus Centre for Special Music Education.